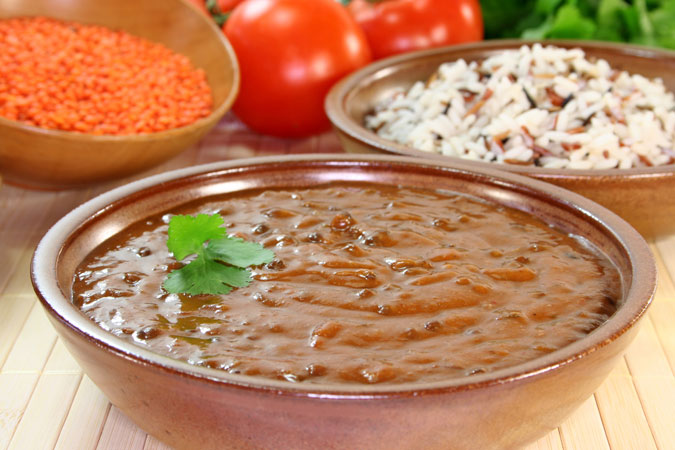 Ingredients
2 cups quick-cooking rolled oats
1 cup brown sugar
1/3 cup pellet-like bran cereal
1/2 tsp cinnamon
3/4 cup lentil puree*
1/2 cup canola oil
1 egg, beaten
1/2 tsp vanilla extract
1/4 cup melted semi-sweet chocolate chips
Directions
PREHEAT oven to 350F (180C). Make sure rack is in centre of oven.
IN medium bowl, mix coconut, oats, brown sugar, cereal and cinnamon.
ADD lentil purée, oil, egg, and vanilla. Mix until dry ingredients are just moistened.
SPREAD over a 10 ½ x 16 (25 x 40 cm) nonstick cookie sheet. Bake 30 minutes, or until lightly browned. While bars are still warm, drizzle chocolate over top and cut into 35 bars.
*Lentil Puree: Rinse and drain a 19-ounce can of lentils. Place in food processor, add ¼ cup hot water, and puree until the mixture is very smooth, adding more water in small amounts to reach desired consistency, similar to baby food, about 5 minutes. Scrape down sides of the bowl as needed. Refrigerate or freeze unused lentil puree for your next batch!
IN large pot, melt butter and stir-fry the onions until wilted, not browned.

ADD garlic, jalapeno, cumin, lentils, ginger, garam masala, salt, pepper, sugar, and bay leaf. Saute for 1-2 minutes until aromatic.

ADD the tomatoes, vinegar, and chicken stock.

BRING to a boil then lower to a simmer stirring occasionally. Cook until lentils are tender, about 1h 45 minutes.

TASTE. Adjust seasoning as needed with salt, pepper and cumin.
GARAM MASALA: (can also be found in the ethnic food aisle at most grocery stores)
IN large saute pan, combine black peppercorns, cloves, cardamom, coriander and cumin seeds, cinnamon sticks and dried red chiles. Over medium heat cook until lightly toasted, stirring constantly.

TURN off heat and stir in nutmeg.

GRIND to a fine powder in a food processor. Pass powder through a fine strainer and cool to room temp.

STORE in airtght jar and use as needed.
(recipe courtesy of PulseCanada.com)