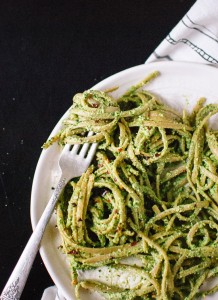 Pesto
2 to 3 cloves garlic
3 cups packed kale
¾ cup hemp seeds
2 tablespoons lemon juice (about 1 lemon)
¾ teaspoon fine-grain sea salt
¼ teaspoon ground pepper
Red pepper flakes, optional
¼ cup flaxseed oil
Optional: ⅓ cup grated Parmesan cheese
Pasta
1 pound (16 ounces) whole grain pasta, like linguine
MIX in a food processor, the peeled garlic cloves adding the kale, hemp seeds, lemon juice, salt and pepper and optional red pepper flakes.

DRIZZLE in the oil. Process until the pesto reaches your desired consistency

COOK the pasta in a large pot of boiling salted water.

ALLOW pasta to cool slightly before adding pesto as to not damage flax oil

SPRINKLE with Parmesan cheese.
(recipe credit http:/www.cookieandkate.com)